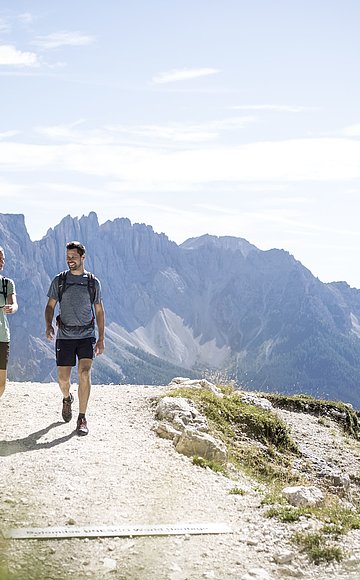 The only way is up!
Hiking in and around Kaltern in South Tyrol
The Mendel Pass with Monte Roen, the Leuchtenburg castle above the lake, the Regglberg plateau or the Dolomites just a short distance away... hiking is always on the menu in Kaltern. There are tours for explorers old and young, for the young and the young at heart – none of them far from the Hotel Goldener Stern.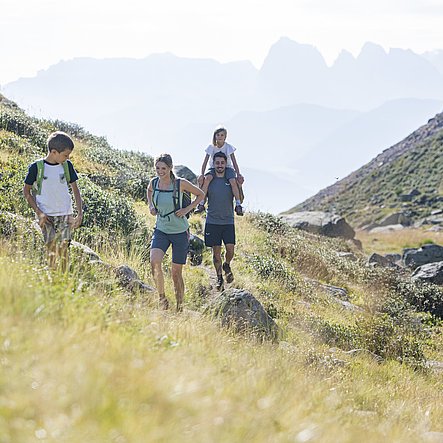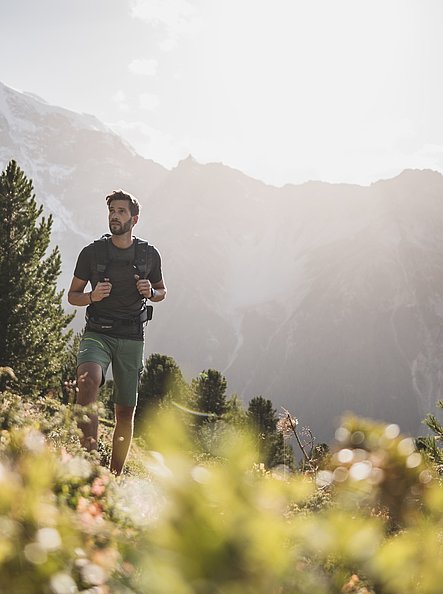 The most obvious hiking tip – literally – is of course the Mendel ridge! The Mendelbahnl funicular railway will take you up to an altitude of over 1,300 metres, from where you can hike comfortably to huts, meadows and to a ski slope in winter – or even further, to the summit of Kaltern's local mountain, Monte Roen at 2,116 metres above sea level. If you don't want to hike all day, but just for some of it, you can hike to the mystical Leuchtenburg castle high above Lake Kaltern. A fairly steep forest trail leads up to the ruin in just under half an hour, where magnificent views and exciting tales lurk. The Regglberg plateau, on the far side of the Überetsch Unterland region, features the twin Weisshorn and Schwarzhorn peaks, with numerous mountain huts and hiking trails to match every mood and level of fitness. You can also marvel at and explore South Tyrol's Grand Canyon, the Bletterbach gorge.
And, if you want to set off for the pale Dolomite mountains, a UNESCO World Heritage Site, the Rosengarten, Latemar and Schlern massifs are also nearby! Nothing could be simpler, then, than finding a way to stretch your legs in and around Kaltern! And the picturesque vineyards around the village are of course perfect for longer or shorter walks in the valley. Just choose your route and off you go!