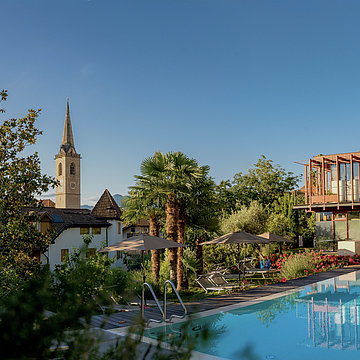 Relaxing in the (steam) clouds!
Wellness at the Kaltern city hotel
Sitting in the hot tub, gazing out of the window and letting your thoughts roam. Where do you think they might be heading? Far away from you! The peace and quiet clear the mind. Sanus per aquam – SPA for short – means that water is good for you, whether in the jacuzzi, the outdoor pool (heated all year round) or while steaming in the sauna. And a massage to follow! Arrive, unwind and rediscover yourself: daily from 3 to 7 pm.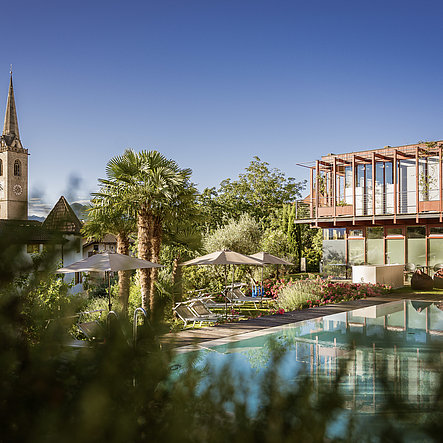 The way to wellness
The spa area of the Hotel Goldener Stern is not located directly IN the hotel, but a little behind it. It can be accessed via a short, private and partly covered path directly from the hotel, as well as from the car park. The wellness garden, complete with its outdoor pool, nestles between Kaltern's historic houses – a green setting for your well-being!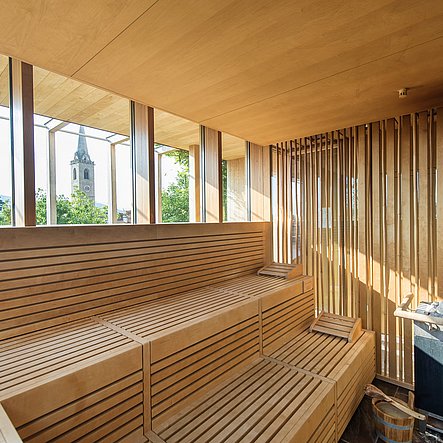 Our wellness offer
A sunbathing lawn with pool, an indoor jacuzzi, a Finnish and a steam sauna all await you in our wellness area. We also offer a wide range of massages to relax the muscles, from classic and special full- or part-body massages, through to Ayurveda treatments. Afterwards you'll feel as if you were floating in the clouds!