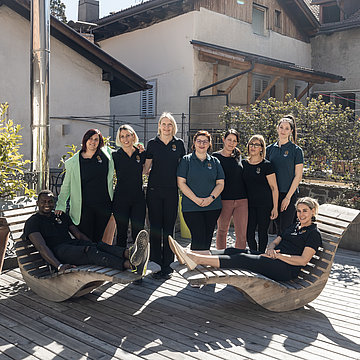 Our team – working for your smile
We work for your smile
A friendly "hello" in the morning, a special request met, a useful tip for an exciting trip – every little action means that you're one step closer to a happy holiday! And making sure you have a smile on your face is exactly what our team is all about. It's no coincidence that our T-shirts say "We work for your smile". :-) From waiter to cleaner, from receptionist to caretaker – our team all work together every day to make sure you enjoy the perfect holiday venue.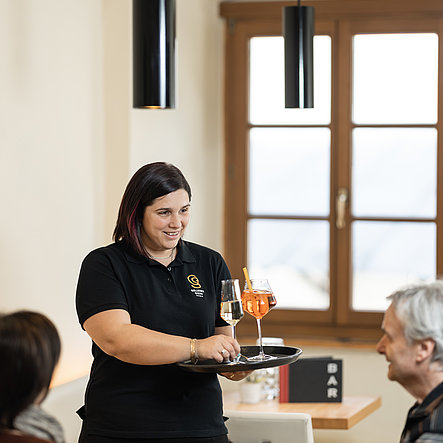 KATHARINA
The cheerful hotelier
Katharina has been running the hotel with expertise ever since 2018, receiving active support from her husband Philipp and their three children Matthias, Lukas and Miriam. She likes to bring a breath of fresh air into the building, but without the loss of its historic charm. And we have to say, she's done really well!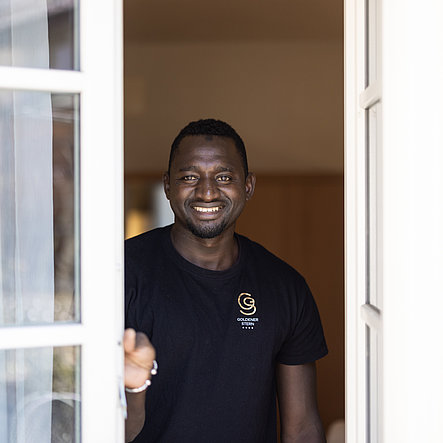 LAMIN
A gifted all-rounder
Lamin is always somewhere around: in the kitchen, in the rooms, in the garden, or by the pool. He came to us as a refugee from The Gambia, got married in Caldaro, and has now been helping out at the Goldener Stern for a number of years. Always willing and always smiling, our guests like him very much. And so do we!
BARBARA
The friendly soul of the house
Your arrival in Caldaro would not be as delightful without Barbara. She welcomes our guests at reception as soon as they set foot inside, she makes coffee and delicious aperitifs at the bar, and pours out our favourite wine. She's been with us for seven years, and we can no longer imagine our hotel without her!